The ultimate goal while running a business, which sells products or other services, is to generate sales as much as you can obtain. When it comes to B2B markets, thorough planning is required to succeed. B2B (Business to Business) is the transactions and business between companies themselves instead of business between a company and the consumer or the government. B2B relationships must be sustained specifically through professional interactions prior to sales for it to be remunerative. This is when third party lead generation services can be substantially utilized. Lead generation services comprise of experts generating leads which,
Induces more sales
Provides reliable leads and potential customers
A better matchmaker between companies
Improves company's marketing funnel and sales pipeline
Practices a professional procedure
Keeps your business sustainable.
Effect on Marketing funnels and sales pipelines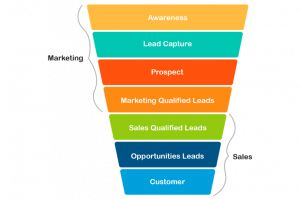 It is clearly shown that lead generation is instrumental when it comes to the number of sales closes. Lead generation services initially create awareness about the company and its products to the businesses that might require its services or products. These services rely on data pulled from qualified businesses through a distinctive process customized for each specific business. Then it helps the sales team of the company to prioritize more on sales opportunities with higher probability. Usually, B2B consumers directly interact with sales representatives at the bottom of the funnel, paired through the lead generation service. This process is achieved through a well established trust between the lead generation service and its customers. Thus, it enables the businesses to progress further down the funnel.
Leads into sales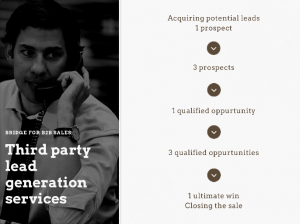 Lead to sales ratios vastly different between different businesses and industries from 8:1 to 20:1. These ratios could be very inconsistent due to the volatility of the leads, but with Lead generation services, the lead to sales ratio can change significantly due to the rate of probable sales that can be attained. At least one out of three leads can lead to the closing of a sale. Lead generation services cut down unreliable business leads and provides a better shortlist of leads, saving the businesses from a time consuming unassisted lead generation.